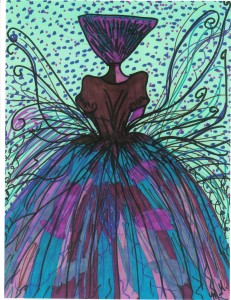 Sleep mistress of the deep,
well deserved, tranquil peace.
Rest euphorically in the stillness of earths womb,
let its warmth abundantly consume.
Tis paradise prior to life's earth breaking surge.
while trees and blades yawn past the dawn,
coos of doves have ceased the night in song
Eagles swoop the limpid gray moonlight
hovering God's lap of earth as if to steal its prey
I can not fathom the beauty of such precious sight
through mind or in our brightest day.
We, the beings who walk this troubled earth,
trudge heavily, on its generous blanket,
we steal, rip, mutilate and integrate
with bull like drills, over sized axe
and bullied blades of saw.
How dare we trample earth raging plea,
In protest she begins to burn.
Her menopausal silent flames
calm in slumber while she sleeps,
and the flesh of her belly violently turns.
Slumber d earth, burden d earth,
fever holds you while you sleep.
Wrapped in green sleeves of fallen leaves,
though comfort Blessed, you weep.
May long tongues of crawling creatures,
pierce not the heart you bare.
May your nakedness reveal,
how much you truly care.
I'm one who stands among the few,
who'll dance the glory of your freedom.
I'm willing to give my all for you,
as wisdom fills my glass,
I will rise to the task.
Fearless warriors,
our eyes brilliantly shone
upon the mountains high,
covered in misty veil.
Fists of gold will defend you,
as steel persists to rape the trails.
Mistress of the light
Mistress of the dark
Unite in spirit child
Blessed be the spirit of the North,
Blessed be the spirit of the South
Blessed be the spirit of the East
Blessed be the spirit of the West
Let the breeze carry you
along earths aisle to the fields
of happiness.
Paradise gone, paradise come.
Paradise a foundation do you lay.
May the coming of the chronicle sun,
siege the night and spare the day.
I'm dining, feasting upon natures mark,
This too I'm so finding.
Reach for me sweet mistress,
touch me tenderly.
Take my heart and melt it
between your bosom d tree.
One day, I'll dance through vale and mist,
and walk the gravel upon the trail.
I'll listen to the hiss of waters blessing
and hear a quiet whispering song.
I'll feel the warmth of a tranquil touch
and the breeze of pleasure stealing.
My lips will touch a glass of nectar
filled with love, and I'll observe the
cooing doves hovering up above.
© 2013 Above The Rain (All rights reserved)