Update on Marlene Bird
Marlene Bird  Click on the name and all the information will be available.
I have written several letters to Marlene Bird and was delighted on Feb. 1/16 to receive a letter from Marlene…such a Blessing.  She indicates she is getting much stronger each day.  Marlene is an extremely strong woman and puts herself out there to encourage all of us to walk through the struggle and also let the enemy know, we're  strong and we will  survive.
https://www.facebook.com/Supportersofssos/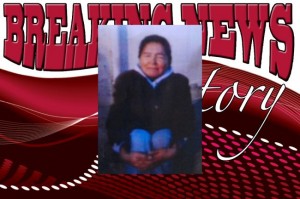 Published on June 10, 2014
Marlene Darlene Bird, 47, is seen in this photo that was handed out for Friday's march through downtown Prince Albert.
Herald file photo
More than a week after her violent assault in downtown Prince Albert, Marlene Darlene Bird, 47, remains in hospital.
Other news
"She's not talking, but … the surgeon said that she is conscious that we're in the room," her aunt Lorna Thiessen said on Tuesday.
Bird is in recovery at the University of Alberta Hospital in Edmonton where she's undergone numerous surgeries as a result of a June 1 assault.
"It wasn't just a little beating," Thiessen clarified. "Her life was at stake."
Emergency personnel found Bird at about 10:20 a.m. on June 1 outside of the Margo Fournier Centre.
While Bird recovers in Edmonton with a small group of family at her bedside, another group of supporters is growing in Prince Albert, spurred in part by the Prince Albert YWCA.
"Marlene Bird is a mother, a daughter, a member of the Montreal Lake Cree Nation and a part of our YWCA Prince Albert family," Prince Albert YWCA executive director Donna Brooks said, noting that staff know her well and that she's "easy to get along with — basically harmless."
She needs to know that she is supported, Brooks said, noting that it's been appalling to the limited reach of Bird's story beyond local media.
"If this attack would have happened to a middle class woman in a suburban Toronto neighbourhood, I guarantee you it would have been on the national news — I guarantee you that," she said.
"But, because it happened in Prince Albert, it happened to an aboriginal woman who is a part of the homeless community — because of all those factors I don't think it received the media attention it should."
YWCA staff is collecting letters of support and financial donations for Bird and her family, which they will mail out to Edmonton every week during her recovery.
"It's very important to show her that she matters — that what has happened to her has saddened a lot of people in our community and that she is important and there are a lot of people who care about her," Brooks said.
The local YWCA executive director also helped bring Bird's story to the World YWCA, which issued their own words of support.
"The YWCA movement, in 125 countries and 22,000 communities around this world, stands in solidarity with Marlene Bird and joins her family's call for justice," World YWCA general secretary Nyaradzayi Gumbonzvanda said in a release.
The Edmonton YWCA has also stepped up to the plate by helping Bird's family during their stay in the Alberta city.
When it comes to the attack itself, Thiessen maintains that she's confident someone out there knows who attacked her niece.
"P.A.'s a small community, everyone knows everybody on the street level," she said.
It's very important to show her that she matters — that what has happened to her has saddened a lot of people in our community and that she is important and there are a lot of people who care about her. Donna Brooks
"People know who it is but they're not wanting to tell because they're scared, and that's how it works on the street.
"One of the things they should know is people can call (Crime Stoppers) … and their name is not going to be given out, you're not going to be traced in any way or form, and they need to know that."
In addition to urging people to help local police find the perpetrator(s), Brooks issues a word of caution to the public.
"Go out in pairs or don't go to areas where there's nobody else around, because we don't know the details," she said. "It's really important that people watch out for their own safety."
The Prince Albert YWCA is also reiterating their stance on violence — that "Violence in any form, it's not acceptable."
"We need to put an end to it in our society, and I know it's kind of an elusive thing, but everyone can do a little piece," Brooks said.
Attend events such as last week's march against violence and in support of Marlene Bird, she encouraged. Lobby politicians to increase penalties for those who perpetuate violence. Donate to local shelters.
One means of support with an immediate effect would be sending a letter of encouragement to Bird while she recovers in Edmonton.
Currently, Thiessen said that Bird's group of bedside supporters are limiting what Bird hears out of fear of overwhelming her.
"We're just letting her know that she's in an Edmonton hospital and she's going to be fine and her family's with her — that's all we're allowed to tell her," she explained.
However, as she becomes able to take on more information it would be nice if it were full of positivity and support, Brooks said.
Those interested in sending regards to Marlene Darlene Bird during her recovery are encouraged to drop letters off at either the YWCA Our House Shelter at 94 15th St. E. or the Central Avenue location at 1894 Central Ave.
UPDATE: The Prince Albert YWCA has already mailed its first shipment of letters to Marlene Bird and plans on doing so every week that she remains in hospital.
Financial donations will go toward Bird's support team who are remaining at her bedside in Edmonton.
On June 6, more than 100 supporters showed up for a march through downtown Prince Albert in Bird's honour and against violence.
The march culminated in a prayer where Bird was found a few days previous.
Tips can be made anonymously by phoning Crime Stoppers at 1-800-222-8477.
Address to follow:
YWCA
1895 Central Ave.
Prince Albert, Saskatchewan
S6V 4W8
Thankyou people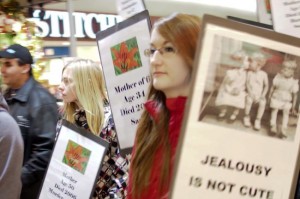 Twenty-three years after the violent murder of 14 women at École Polytechnique in Montréal and the horror has not ceased for many Canadians.
Mostly made up of students from the Prince Albert Collegiate Institute high school and the Ending Violence Against Women Committee, as well as two police officers and Mayor Greg Dionne, they marched throughout the mall on Thursday at noon.
While the murders at École Polytechnique are by no means the only atrocity which has been committed against the female half of Canada's population — B.C.'s Highway of Tears and Vancouver's Robert Pickton, are a couple of drastic examples — it was the first and largest to sweep across the country grabbing the attention of every media outlet for days.
"It was a national tragedy and it brought attention to the issue. It became not only a memorial but a call to action," said Sandy Pitzel, an organizer of the event in Prince Albert.
Ever since then it has been a rallying point for awareness campaigns about the continued violence suffered by Canadian women.
The National Day of Remembrance and Action on Violence Against Women is intended to be a time to mobilize against violence and to support the women and families who experience it, Pitzel said.
She says that remembering something that happened more than 20 years ago continues to be important because it was a turning point in the public's attention of the issue.
"It was a national tragedy and it brought attention to the issue. It became not only a memorial but a call to action,"
"It's because it was the first national event that brought attention to violence against women," Pitzel said.
To bring the issue closer to home, every sign carried the name of one of the 14 Montréal women and on its flip side, the age and personal details of a woman from Saskatchewan who has been murdered.
Metis Elder Julie Pitzel was also in attendance and spoke to the gathering of marchers and mall-goers collectively. She spoke of the challenges women and their young continue to face and of how important it is that all women and the men who love them speak and act to curb violence against women and children.
"It's sad when you think of these women, they never got to be mothers, never got to live out their lives," Elder Pitzel said.
She was instrumental in the development of Prince Albert's first ever women's shelter, built specifically for women and their children escaping violence.
At the time she was the president of the West Central Native Women's Organization, which spearheaded the project.