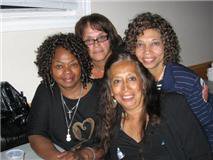 To My Sisters (September 8, 2014 at 4:54am)
It is 4:07am, well I was hoping to sleep a wee bit longer but it is what it is. I woke with a beautiful young lady on my mind. I met this beauty yesterday, tall, Black and gorgeous. I admired her looks, her smile and her fabulous ebony skin. She carried herself with confidence and that brought a smile to my face. Her image is bold within my mind right now. I also met a very vibrant and O so friendly Latino lady, we chatted only a moment or two, I felt Blessed to have those moments with her. Moments later, a very pretty tall blonde woman in red walked by in her amazing high heel shoes and I stopped her for a hug, she was lovely. Another woman took my eye and we gazed at each other for a few seconds, I told her, she was beautiful and she reached up to my ear and told me the same. We spoke for awhile about how women should continually support each other and we both agreed that we need to work on that a lot and get over this jealousy some have within them. I'm uplifting all of these ladies in prayer this morning.
I went about my business, chatting with many people there, men and women. My friend wanted to sit at a table to eat, they were all taken but a young lady saw us looking and caught my eye and she gestured for us to join her. Moments later I observed her reading a most beautiful piece of writing and I listened to some of the words about our friend Orunamamu. Later she was leaving and I called out to her and told her I didn't want to lose touch with her, and gave her my business card. I hope she will be in touch at some point.
I'm calling out to my sisters this morning, give your sisters support. Give them that pat on the back, a shake of the hand or a beautiful hug. We all have our attributes, strengths, dreams, goals and so on. We all have our own suffering, we share a general fear as our physical strength is not the same as some of the male brutes in society. Most of us share that marvelous ability to create and to bring forth the miracles of this world, we are amazing beings and we need to walk and be proud of the Queens that we are. Instead of wasting precious time with jealousy in our hearts, longing to look in ways that we can't, we simply must realize, we are all beautiful in our own way. Admiration, love, respect and compassion goes a long way and what we gather from that, takes us to a higher level. We will be happy in every stage of our life if we make the effort to become the best that we can be. Support your sisters, be happy for them.
You know life has its curves and I've said many times prior, you never know where the road ahead will take you. With a clear mind, emptied of darkness, that road won't make the wrong turns but when a person delves into the depth of darkness, the mind is marred and bad decisions take hold. Be well within yourself and love yourself enough to take great care of "you" so you can walk with your eyes wide open, then only good will await you down that road. Continue to do the things that you need to do with love in your heart, in order to get to the place where you want to be.
A wise gentleman said to me the other day, women are as beautiful as they want to be. I find that a remarkable statement, we create our own masterpiece. On the outside, we can sculpt our bodies to the best of our potential and on the inside we can build strong minds, a beautiful heart and a loving and soothing soul.
Love to all of you this morning my sisters, I love you, respect you and wish you well on your journey of life.
Melvina Germain
To My Sisters (July 13, 2014 at 7:59am)
Good Morning , Good Afternoon, Good Evening, once again I come to you with
my personal thoughts. This is somewhat troubling to me…A woman for whatever
reason has become what many refer to as a crack head. She is addicted and has
remarked…This drug has the better of me, I can't let it go no matter what I do.
She becomes weary and yes eyebrows raised, the judgement throwers were in
full bloom, tossing daggers, hurling slurs and waving that proverbial finger.
No one asked the question, why? What happened to this young women that
made her turn for substance help. How would her life have changed if the right
people intervened perhaps when she was reaching out. How was she missed
and who could have uplifted her. Well lo and behold an Angel came forth who
would not leave the side of this young woman and walked with her through the
streets of Calgary, was there when she took her fix, was there when she broke
down crying, was there when she brought an unwanted babe into the world
and then a second unwanted babe. It was a long, long journey and yet this
person would not leave her side.
One day, the young woman announced, it's time for me, I know I can make it.
She had a revelation and her Angel held her hand tight and helped her to make
that transition. She walked through the doors of rehab some three years later
after having met her Angel. She was smothered with love from a few who
told her she was a "strong woman" for doing what she did. She vowed she would
do as her Angel did and help others. She made it through and cleaned up her
life and began the process of helping others.
Unfortunately not everyone agreed that this woman was a "strong woman". No
the judgement began, all her past was brought forth, every darkness one could
find was used against her, trying to tear her down instead of uplifting her. The
jealous bones were hard at work and the piercing eyes of those who call
themselves sisters had become her enemies. They couldn't stand the fact that
this drug addict now had a voice and a strong voice at that. The flame throwers
were burning with hate. I observed this thrashing and pondered on this new
struggle coming forth for this young woman.
I sat in silence, retreating within, questioning. To be a strong woman, do we
have to be raped, beaten, mutilated by losing our limbs, or having our face
slashed off, must we be literally slashed in the back with an axe. Make it
through such abuse and pain and only then will we be considered "strong women".
Is that so, do we have to be tortured, come through it, making it back where
we can live again and that my friends will deem us "strong" in the eyes of the
world. Suffrage has become our greatness, ok so without being tortured almost
to death, we then can not obtain the consideration of strength. Beating an
addiction would not be considered strong in the minds of many but rather weak.
After all as many would say, she did that to herself, you know many meaning
those perfect individuals who view from the highest pedestal. Those who make
no mistakes or at least have not shared such.
Could it be, in order for anyone to respect your strength as a "strong woman" you
must first, lay down in "pain".
Allow me to take the first jab, so I can see you bleed, get on your knees and I
will crown you "WOMAN" Violence against women is "EPIC" there's a word that
is overused as of late but so true.
Teaching our young girls in the beginning of their lives, hiding no truths but
painting a very clear picture of this world and the expectations of others. Letting
them know how powerful they are, what they have to offer, how beautiful, how
strong, how good and proud we are of them. All of this, will help them create
a very strong and stable foundation and it all has to happen with "Love". We
can't demean them, speak against them or speak against those who bore them,
but we continually through their journey in this life, continue to uplift them.
We do not have to suffer to be strong but we do have to acknowledge the
strength in those woman who have suffered and we also acknowledge the
strength in those who make it back from addiction. We can not come together,
work together, if we do not embrace each other as women, love and want to
support each other, no matter what we have gone through in our lives. Those
who have privilege still have much to offer as well and we need to know that we
can benefit from every woman who wants to make a difference in this world.
Age, color is of no consequence, everybody has a voice.
These are my personal thoughts, I'm not opening a huge debate but rather
sharing my own views. Feel free to share yours without rebuttal from me.
Once again…Take what you can use and leave the rest…Melvina…..