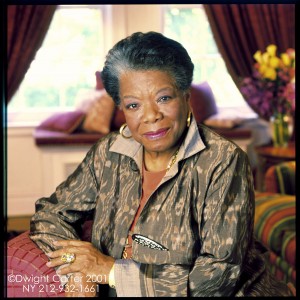 My Tribute to Dr. Maya Angelou
She painted the world beautifully with her presence,
her expressions, her tenacity and her love of people, her
respect for all things and her hearts desire for peace. She
educated us so we would learn the truth of long ago and
she was gifted and respected by her peers and those who
stood in awe.
She rose to the occasion in rooms of high caliber, touching
The hearts of leaders who basked in the words she shared.
A wordsmith through and through, a sheer delight if you've ever
heard. Her voice was paralyzing and embraced you with
warmth, love and truth.
Dazzled was an audience with her memory, voice and
demeanor. Blessed were we who sat intently listening.
An amazing human being was sharing velvet words and we
were the receiver of some of the best we've ever heard.
A mentor, an inspiration, a motivator to many people like
me. What she wrote is what she was and in truth, exactly
what she did…"Still I Rise", we can relate but Maya surely
walked that walk and walked it well.
Maya Angelou has given heart and soul to a cold pen.
She scribed words to go down through generations,
words that will never see an end. An infinite blessing
flows the pages in libraries, on kitchen tables and the
quiet of a readers den.
She was a Mother, a Grandmother and a friend, perhaps
to many she did not know. Maya was the reason many
females came to understand the truth. When she wrote
"Phenomenal woman", huge eyes opened O so wide. A
Blessing,poured upon us as we sat and read with
pride.
My heart is hurt, my eyes are red from tears that won't
stop spilling. I know it's time for Maya to rest as she
did her job well. A bombastic pouring of words, O yes
bigger than one can imagine, She touched Presidents
and many leaders of great magnitude. She comforted
the rich and the poor. Maya made it through many a
closed door.
Maya, you will not be forgotten, a nation knows your
name and for the few who question, don't worry, there's
many to set them straight. You walk quietly and give us
a glance and final wave. And as you softly close the
door behind you and open Heaven's gate. Know that we
will always find you in the abundance of your words.
Written by: Melvina Germain
Date: May 28/2014
Below is a review written by "Fresh Start 7″…
Dr. Maya Angelou was born the same year as my Dad – 1928 – which makes her very special to me.At this writing, she passed away on May 28, 2014 at the age of 86.
It is impossible to describe her in one word, since she carries many names: "one of the great voices of contemporary literature, poet, educator, historian, best-selling author, actress, playwright, civil-rights activist, producer and director".
This incredible female icon has won several honorary doctorates as well as numerous awards, including the Presidential Medal of Freedom in 2010, Grammy Award for Best Spoken Word Album, Langston Hughes Medal and the NAACP Image Award for Outstanding Literary Work.
I recently published a tribute to my father, Cuthbert Emmanuel Vincent BEM, and since I am still in remembrance mode, I want to focus on Dr. Maya Angelou's seven (7) autobiographies, since they hold the key to a collective past that will forever be recorded not only for Dr. Maya Angelou, but for all those who lived in her era and will never have a voice.
Dr. Angelou's autobiographies, which she wrote between 1969 and 2013, chronicle her life and experiences from 1928 to 2013. That's 85 years of history! We see them through the eyes of a woman who has travelled the globe and shares her experiences both at home, in the USA, and abroad.
This collection comprises the following 7 autobiographies:
1. I Know Why the Caged Bird Sings: covers her life from age 3 through to age 16 (1931 – 1944), when she becomes a teenage mother. Deep seated issues such as "identity, rape, racism, and literacy" are covered within.
2. Gather Together in My Name: treats with the years from 1944 to1948. In summary, it "depicts a single mother's slide down the social ladder into poverty and crime."
3. Singin' and Swingin' and Gettin' Merry Like Christmas: She focuses her on life from age 21 to about 27 (1949-1955); her budding entertainment career, her motherhood, her travels to Europe, as well as other general issues about "music, race and conflict".
4. The Heart of a Woman: covers 5 years in her early 30s (1957-1962).She takes us on her travels with in the US and Africa (Cairo and Ghana), her debut as a published author, her active involvement in the US civil rights movement and her "romantic involvement with a South African freedom fighter."
5. All God's Children Need Traveling Shoes: she shares with us life in her late 30s; her life as an expatriate in Accra, Ghana, her struggles as a mother and her grappling with her African ancestry and African-American identity.
6. A Song Flung Up to Heaven: written in 2002 and covering the period 1965 to 1968, "Two "calamitous events" frame the beginning and end of the book – the assassinations of Malcolm X and Martin Luther King and she describes how she dealt with these events and the sweeping changes in both the country [USA] and in her personal life, and how she coped with her return home." (Wikipedia, A Song Flung Up To Heaven)
7. Mom & Me & Mom: written 2013, I think it really wonderful that she was able to write this final chapter in her own life, just 1 year before her passing. I would say it 'comes full circle' because it treats with her source of life, her mother, her resentment towards her for abandoning them as children, her eventual reconciliation with her mother and the help and support she received from her mother in later year with various aspects of her life including her motherhood and career.
What I like best about her autobiographies is that none of her experiences are sugar-coated. She tells "the good, the bad and the ugly" just as it was in every period of her life. So, although some details may make you uncomfortable, for me they do two (2) hugely significant things for all mankind:
1. They keep us all in check, so that we never repeat the atrocities of the past.
2. They remind us to be conscious about how we treat all people, lest one day we become the victims.
It's not all heavy stuff, though, there are things to smile, chuckle and laugh about as well.
When we in life have been blessed with greatness, in the form of Dr. Maya Angelou, then it is our duty to preserve the memories and pass them on to our children and children's children etc., so that we never have to read in our history that which was written of the Joseph and the Israelites in the Bible, "Then a new king, who knew nothing about Joseph, came to power in Egypt…and made [the Israelites] lives miserable by forcing them into cruel slavery" (Exodus 1:8).
So keep Dr. Maya Angelou's words, experiences and her stories from her era alive in your own family and someone else's family by purchasing a copy of this collection of her seven (7) very powerful autobiographies.
With all that I have said, though, Dr. Maya Angelou says it best, "All my work, my life, everything I do is about survival, not just bare, awful, plodding survival, but survival with grace and faith. While one may encounter many defeats, one must not be defeated."
Hello World…May I have a moment please?
Three of my poetry books are now published on the Kindle through
Amazon. Journey Of The Soul..Above The Rain and Conscious
Revelation. If you do not have a kindle device, you can download the
kindle device to your PC, free of charge, a gift from Amazon. After
downloading the device, you can purchase my books and begin
your kindle library.
For your enjoyment, I have decided this is one beautiful way to be
able to share an abundance of my inspiration, my encouragement,
and my love of life with all of you at a very affordable low price.
After reading my books, I would so appreciate a few words from you
in a review on Amazon. On the purchase page beneath the books you
will see a review box. Please stop by and leave a word or two.
Thank you friends, I do appreciate all of you.
Melvina