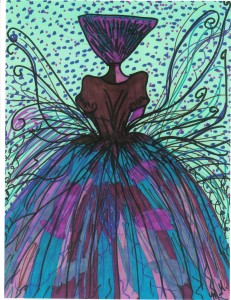 First of all, let me say, good morning, good afternoon, good evening. I woke this morning with words hurling all over me in every which way. A conundrum of words wanting to take their place upon my page, eager to flow from the ink of my pen.
I may be all over the place but there are some things I want to definitely address this morning. Wouldn't it be wonderful if we lived in a world where we can think of ourselves as one, accepting each other for who we are and not based on the color of our skin. You've heard it all before, Martin Luther King, had that dream. Perhaps its still unfolding with some, but certainly not enough of us.
We seem to have an insatiable hate for our own human race. Unfortunately it is seen in major instances with men overpowering, beating, raping, humiliating, demeaning and mutilating women. I'm troubled greatly by that, since it is women who bear the burden of bringing children into this world. That said, we are the beings who bring these hate mongers to this earth. How does this happen, who poisoned our innocent babies. Why is there so much hate toward the female gender, could it be fear, is there a need to keep control and keep the female under that blanket of unworthiness so they won't realize their true power. Has the female forgotten who they were before they allowed themselves to be controlled. Perhaps a look back at history would give you some insight as to the strength of the female.
Ladies, don' t forget the Warrior Queens, an army of all women, brave, forceful, strong yet still holding that beauty and sensuality but totally in control of themselves, strategic thinkers…we walked this earth, yes we did and it's time to come back. This unnecessary pain that we have been subjected to, the constant reminder that we are not as high as the male, the reported, disgusting abuse, rapes that give power to a small mind…these tragic attacks, the brutality, the disfigurement, ripping of flesh, the constant sexual, verbal abuse, holding the female as an object to have fun with. All come from the male gender, O we must acknowledge that we are not talking of the whole of the male population but unfortunately a large number exists. It's a constant battle and the stories are becoming darker and darker.
Not long ago, I believe last week, another one of our Native women was attacked in a mall parking lot in Prince Albert. Her assailant cut half of her face off and burnt her from the waist down, she now has lost both legs. I have not heard yet today whether they found her attacker or not. How does a human being hate so much to be able to do this barbaric act. I have to rest awhile, my chest is pounding with pain right now, this is so troubling to my soul.
Ok you know, I'm going to step back a bit…this piece took a turn I wasn't expecting but that's how things evolve sometime. If we had more acceptance in this world, not placing labels on people of race, color, if both genders were considered equal, we would live well. We can see color but lets see the beauty of it and not use it as a tool to demean, the same as race and gender. Commenting again on the latter, when we find it necessary to hurl names due to an argument or a dislike of an individual, male or female, we are demonstrating how foolish we are and truly we are demeaning ourselves.
You see the moment someone calls you a name that immediately places you on a much higher level, when you don't return the tossing of daggers. You are not weak, you are wise. Confrontation is enjoyed by people who don't think much of themselves so they find it necessary to lash out and blame others. The best thing you can do is remove yourself from volatile situations quickly leaving them to wallow in their own darkness. Remember they have a demon inside that must be dealt with but you don't have to be the target of their frustration or their need to control. You can not fix them, the responsibility is there's.
Protect yourselves, everyone, men and women…look around you in parking lots, check the vehicle beside yours, lock your vehicles and don't trust smiling strangers asking for directions who many need a ride to the end of the block. Ladies pay close attention to your inner gut, you have the gift to know when trouble is around you, listen and act accordingly. It might save you years of pain. We can not walk alone at night in our wonderful country anymore. Take care of you and those you love around you. Act on anything you see that is not right, use your phone to immediately call for help. Be careful, young people, Seniors, men and women but especially you sisters, you are an open target for the wicked…..
I hope you get something out of this, once again, take what you can use and leave the rest. I'll read your comments but won't debate, these are simply my thoughts that I'm sharing with you. Melvina G…..