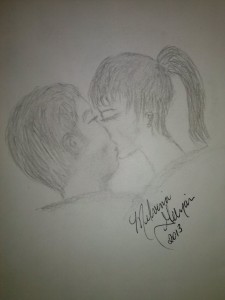 And So I Dream
Do I repent my thoughts of you,
these wondrous jewels of crystal blue.
Must I suppress those inner feelings,
and thirst the thirst of royal juice.
My words are mine, my thoughts divine,
I torture not the sight of you.
My rainbow curves around your being,
and you become a glorious scene.
Held within the valley of no pain,
thoughts of you have infinitely gained,
The thickened syrup of life's flesh fountain,
have trailed the slippery slope.
O as my imagination soars, my thoughts
create a diva's roar. I laugh with the intensity
of a Queen as you have given me my crown.
My radiant smile, my pleasing sigh, my tranquil
moment, my inner high. I bask in ecstasy as
my thoughts of you abound.
So I live this lonely life, of which I shall not
change. Thoughts of you have granted me
pleasure and always within my range. I fear
no implications, I hurt no one at best. I dare
say, solace I have found, it seems I've past
life's test.
Your name, I'll not unveil, tis I who knows of
whom I speak, the character of my tales.
I shall dream on a lonely winters night,
dreams of warmth within your embrace.
Whispering within your ear, only words for
me to hear.
Written by: Melvina Germain
As I Think Of You
Drifting carelessly upon the fields of despair,
lusting foolishly of what I can never have.
Secretly adoring a face within the crowd.
Screaming inwardly, as anxiety stings with
pain. Longing feverishly, over and over
again…..
Written by: Melvina Germain
© 2013 Above The Rain (All rights reserved)
I Know "YOU"
There you are standing in the raw,
your flesh loose like jelly, a tattoo
that lost its shape.
Your belly folds around the middle where
you can hide your wrinkled hands.
Your hair white as snow with a bald spot
shiny and smooth, but your eyes are eyes
of royal blue, and your smile fit for a king.
When you open your mouth to speak
I hear the Angels sing.
Though your body is no longer strong and hard,
and the firmness of your grip is gone.
I see the man who lives inside,
I feel the gentleness of your soul.
O come to me, my man in the raw,
come squeeze me and hold me tight.
Let me rest upon your chest and feel,
your heartbeat through the night.
I pray to God, we see another day to
gaze into each others eyes, to lift a
cup of warm held tea, to look to the
sky of tranquility.
I pray together we share such things
and enjoy each breath we take. When its
time to softly close earths door, soon we'll
be together again, behind God's spiritual
gate.
Written by: Melvina Germain
© 2013 Above The Rain (All rights reserved)
Great Christmas idea, a sensual tea delight, add to gift baskets or give on its own. A lovely gift idea for that tea lover. Sells for $6.00 or combine with our magical quotes and save on 4 for $20.00, enjoy folks. Check out Book sales for further details, thank you.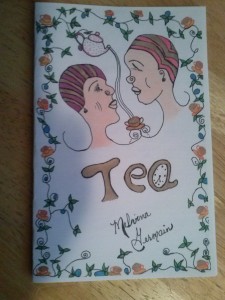 ipt async src="//pagead2.googlesyndication.com/pagead/js/adsbygoogle.js">