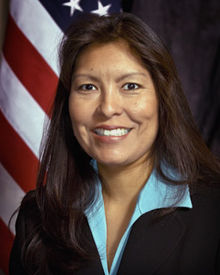 Judge…Diane Humetewa… She's leading the way
(First Native American Woman to become a Federal Judge)
I end this evening with a poem for our Native sisters…
Where Are They
Where are my sisters, beautiful honey-tone skin,
what perpetrator took them from their homes and kin.
People who honor the land we walk upon
treated like renegades and wretched vagabonds.
Who will nourish the land where a sister lays
be it a shallow grave, no honor one gave.
And if she wakes up in that land far away,
will she understand the words people say.
A prisoner in a foreign land no words of love,
the raven watches above for the eyes of a dove.
Only the great spirit who sees long beyond
can comfort a suffering soul while moving on.
If the moon gives us a miniscule of starry light,
we pray great spirit, bring them home day or night.
Many questions we ask to the arms of the law,
answers come forth like a glacier that will not thaw.
But now a new soul has taken the throne
And with his youth he does not stand alone.
Vibrant, honest, refreshing and new,
may God above, help him do what he must do.
Written by: Melvina Germain
Date: Feb. 16/2016