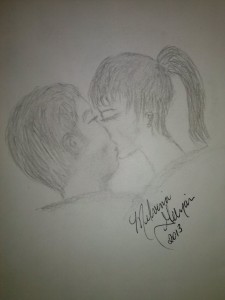 Sensual Delight on the Telephone
You said, talk dirty to me,
I said,
oh I can not say
such nasty things.
If you say,
talk beautiful to me,
in an erotic tone,
I can drive you to the top of Mt. Everest
and bring you slowly back home.
Ask me again,
in a soft mellow tone.
Perhaps I'll take you to the rough and wet,
steamy falls.
Press my fingers
against your supple skin
and squeeze until you wince.
Talk beautiful to you,
in the midst of a cool nights breeze.
Whisper words,
gently as your hot lips caress my ear.
Take a deep
breath and sigh,
a heavy sigh as your body shivers sweet.
Ohhhhh don't hang up the phone,
I have a whole lot more to say.
Talking beautiful is certainly
my forte.
Written by: Melvina Germain
An Arousal Of Exotic Love
I watched you all night long, though my eyes appeared
to gaze elsewhere. An intense desire filled my soul as
you gently squeezed my hand. A spark of envy drifted
through my heart when I saw the beauty standing by your
side and I trembled slightly knowing I must hold calm,
and keep my feelings deep inside.
I showered you with words abundantly, though silent to
your ears, as they were words silently spoken, only for me
to hear. I caught her eyes look upon me with a smile of wonder
hidden within, and I tried to look away and not force those
foolish little grins.
So happy I'am for you, as you are happy in your world.
As my fantasy of you unfolds, a rendezvous shall grant me
solace, and I… I shall be that wanton girl with an inamorato
there to please. No questions needing answers as I'm
wearing love upon my sleeve.
My passion rides the ocean… rapturous surprises as I dive
within it's belly, aroused by a lick and suckle. As my zeal
continues to yearn in a most provocative manner. I lend
myself to that erotic heaven and you become my Romeo
… Juliet I shall be.
Let me lift thy blanket and between the sheets we shall be.
Riding on the white clouds of Heaven, black on white in
ecstasy. So come and drink of my pleasure, that milky skin,
I do desire and as I fondle you tenderly, those strokes of
pleasure lifts me higher and higher.
As you woo me with flowers and bring me that sweet
vanilla cream, I remain infatuated and intrigued by your
awesome treat. A night of pleasure enjoyed on the other
side of the street. I adore you, my handsome Prince, so
tall and O so fair. I ride the waves of controversy and
care less of those who would never dare.
Written by: Melvina Germain
Date: Dec. 27/2012
True Love
Your words illuminate my soul as they penetrate
deeper and deeper.
Your love flows like the waves of the sea,
and your eyes only see me.
Sweetheart, you cast a spell over my being.
I melt when I hear your name.
The fire inside me burns an infinite flame.
Come to me darling, come to me.
I'll wait for you when shadows dance within the moon.
when your whispers become softer than before.
I'll feel you when you quietly walk through the door.
Written by: Melvina Germain
Cupid…Say goodbye…..
Living the blues, watching the midnight news
as the tears streamed down my face, screaming,
moaning, why? The tragedy of lost love weighs
heavy on my heart as my thoughts wander sifting
through the haze of lost tomorrows, weeping with
infinite sorrow.
Spilling bucketfuls of blues on slippery slopes,
wasting time carrying loves heavy load. What shall
I do when he finds me lonely, he… cupid, that love
sick liar who pierced his arrow against loves
crumbling wall, where shadows danced in the
midnight hour.
My eyes red like a raging fire, casting hopes
higher and higher. Lord, come with me while I
wade through these rough waters. Save me from
loves agonizing curse of faded dreams. Let me
mend the notch between the seams.
Shivering, clenching fists, losing control with twists
and turns. A fetus forms between the blades, lying
still, teased by the oncoming of a late summers breeze.
Amid the roar of screeching and holler, I realize I'm
just a fool, filling myself with stress and pain while you
laugh it up, with whiskey and mesh stocking legs
wrapped around you.
I've cried my last cry over you, washing away all the
pain. Cupid you take your arrow and leave, Sully is
wearing the love of another on his sleeve and I'm Ok,
I'm Ok…..
Delight In My Fire
Many paint me immoral, vulgar too,
though thy hold no malice to someone like you.
Echoes of the past, only virgins sought to marry,
while the true pleasure of a man was the
loose women they carried.
May thou be wrapped in silk and satin sheets,
awaiting a prince or king of which thy long to meet.
Let me be the Queen of a Kings delight and bask
in true ecstasy from the light of morn to the darkest night.
Rise above that judgemental voice of the past.
As virgins and matrons differ, one fears to taste
and the other thirst quenching last.
Matrons never tarry in sensuality, though their prime
is a thing of the past. Experience blossom through
years of loving. An abundance of gems they cast.
Wrap me matronly, thy do enjoy. This old time girl
is still a-flying. No shame finds me in morning,
noon or night, with thy over encompassing sensual
fire, an abundance of erotic desire.
Written by: Melvina Germain
ipt async src="//pagead2.googlesyndication.com/pagead/js/adsbygoogle.js">



Hello World…May I have a moment please?
Three of my poetry books are now published on the Kindle through
Amazon. Journey Of The Soul..Above The Rain and Conscious
Revelation. If you do not have a kindle device, you can download the
kindle device to your PC, free of charge, a gift from Amazon. After
downloading the device, you can purchase my books and begin
your kindle library.
For your enjoyment, I have decided this is one beautiful way to be
able to share an abundance of my inspiration, my encouragement,
and my love of life with all of you at a very affordable low price.
After reading my books, I would so appreciate a few words from you
in a review on Amazon. On the purchase page beneath the books you
will see a review box. Please stop by and leave a word or two.
Thank you friends, I do appreciate all of you.
Melvina